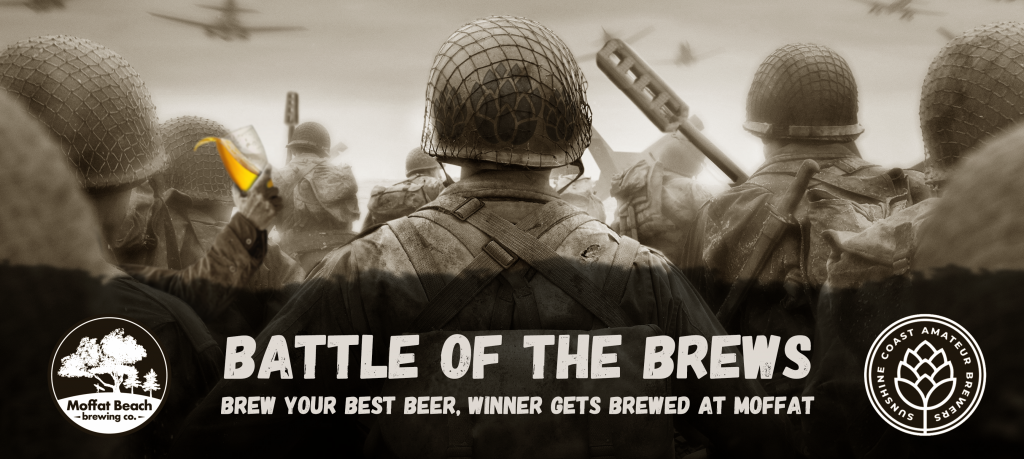 Battle of the Brews 2020
https://sunshinecoastbrewers.com/wp-content/uploads/2020/09/hero-1024x459.png
1024
459
Ged Johnson
Ged Johnson
https://sunshinecoastbrewers.com/wp-content/uploads/2020/04/profile-ged-100x100.jpg
Date/Time
Date(s) - 28/11/2020
12:00 pm - 5:00 pm
BATTLE OF THE BREWS 2020!
Having a beer brewed commercially is a dream for any home brewer. This year the clubs sharing it round with another local brewery, Moffat Beach Brewing Co.
Matty from Moffat is busy building his new brewery and we have a date, Sat 28th Nov. Beers need to be in by the 24th (Geds Shed).
Free Entry, Must be a member ($5 online)
Its a private event at the new brewery (awesome)
Brew any style beer
Bottle 4x 750ml PET Bottles (pre judging & on the day tasting)
Label your beer with ingredients and special processes
Add ingredients/ process on label
Drop them off at the Club, Geds shed (before Tue 24th Nov)
Winner Judged by Moffat Beach and panel
Prizes 1st, 2nd, 3rd place prizes. Also people's choice award
Happy Brewing!