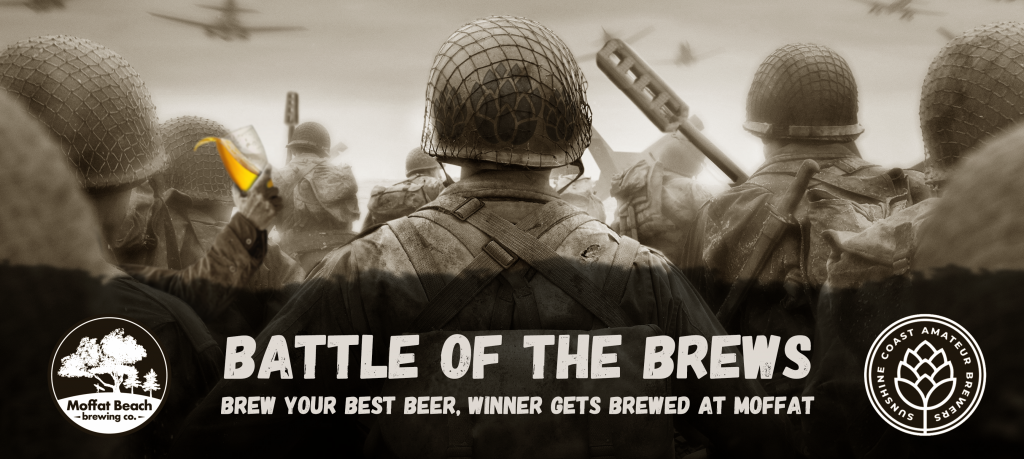 Battle of the Brews 2022
https://sunshinecoastbrewers.com/wp-content/uploads/2020/09/hero-1024x459.png
1024
459
Paul Best
Paul Best
https://sunshinecoastbrewers.com/wp-content/uploads/2020/04/profile-paul2-100x100.jpg
Date/Time
Date(s) - 02/07/2022
12:00 pm - 5:00 pm
BATTLE OF THE BREWS 2022!
We are pumped to be heading back to Moffat Beach Brewing Co. for this years Battle of the Brews!
Having a beer brewed commercially is a dream for any home brewer and Matty will again be brewing the winners beer, with the winner, on his beachside system! How Good!
This years theme is "Winter".
You're not locked to a specific style, brew any beer you like with a winter theme.
Event will be held at Moffat Production Brewery on Saturday 2nd July, starting at 12:00pm.
What happens on the Day?
Matty will announce his top 5 beers
Samples of the top 5 will be provided to all the patrons
Patrons will select a people choice
Matty will announce his top 3 and overall winner!
Prizes on the day
Free Entry, Must be a member ($5 online,  click here)
Email sunshinecoastbrewers@gmail.com to confirm entry
Bottle 4x 750ml PET Bottles
Label your beer with style, ingredients, abv, ibu and sales pitch
Drop beers to Yandina or Caloundra (address provided closer) by June 25th
Turn up on 2nd July for for all the fun!
Check out some photos below from our last event.