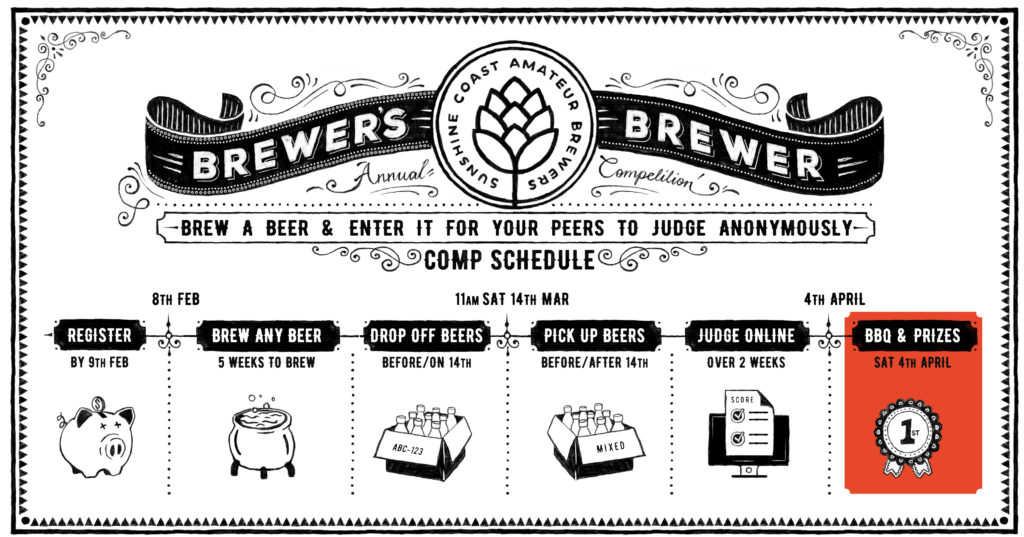 Presentation BBQ for the 'Brewers Brewer' Competition
https://sunshinecoastbrewers.com/wp-content/uploads/2020/01/hero_6bbq-1024x537.jpg
1024
537
admin
admin
https://sunshinecoastbrewers.com/wp-content/uploads/2020/04/avatar-default-100x100.jpg
Date/Time
Date(s) - 04/04/2020
11:30 am - 5:00 pm
Location
Geds Shed
FIRST PUBLISH
This is the start of something new! Becoming Sunshine Coasts "Brewers Brewer" gets your name engraved on the clubs trophy, published on the website award page, and you can even reign in on some nice prizes.
In short, the competition is anonymous and done through online scoring login. We built the web application in house, so we're excited to put it to the test.
Register before 9th Feb
$10 Registration from the ticket link below (inc BBQ n Prizes)
Here's the outline:
• Open Beer Style
• Peer review judging
• $10 Entry. Covers BBQ/Prizes on Sat 4th April
• Beers entered are anonymous
• Prizes for 1st, 2nd and 3rd place
• Winner gets their name engraved on the clubs trophy
• Entrants peer review other brewers beers
• Casually score beers online over 2 weeks
• Winners published on the clubs website
• Its a small comp, so dont give away what ur brewing
Come join in on what we think is our best in house competition. You can become a member ($5) and get 10% off every thing we do for 2020.